There are many domestic jewelry brands, but the market has yet to be improved. Now we have compiled the top ten well-known jewelry brands for everyone to understand.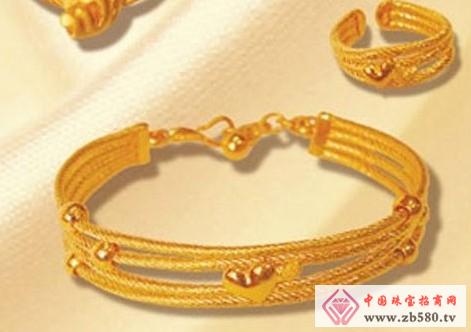 First, Chow Tai Fook: Be the first jewelry brand in China.
Chow Tai Fook Group is a strong private business group owned by Dr. Cheng Yu-tung and his family. The group has a total asset value of more than US$5 billion and operates worldwide. It employs approximately 80,000 people. The Group's business is mainly operated by two companies: Chow Tai Fook Enterprises Limited focuses on investment business; Chow Tai Fook Jewellery Co., Ltd. operates the Chow Tai Fook brand diamond jewellery business.
Chow Tai Fook Jewellery & Gold Co., Ltd. ranks first in the market in the jewellery industry in Hong Kong and China. Chow Tai Fook is also one of the world's largest diamond embryo suppliers, DTC, one of the 84 special distributors in the world, and is directly placed in the natural diamond original embryo qualification. Chow Tai Fook's traders are from all over the world, mostly diamond experts who have received professional training. They are good at jewellery reviews, cutting and polishing, and they have a thorough understanding of diamonds, fully demonstrating the extraordinary strength of Chow Tai Fook. Chow Tai Fook has a long history of jewellery for over 78 years. It is known for its superb craftsmanship and innovative jewellery design. It is now the most famous jewellery brand in Hong Kong and China. Its sales network covers more than 60 cities in Hong Kong, Macau and China. 360 sales outlets, currently, are actively expanding the Southeast Asian market.
Second, Zhou Shengsheng: Repeatedly, and never ceases to live.
In 1934, Chow Sang Sang opened in Guangzhou, China, and quickly expanded its business to all parts of Guangdong.
The name of "Zhou Shengsheng" has the meaning of "week" and the beginning of "life", while "week" is also the name of its founder. Through his fashion jewellery, Chow Sang Sang is committed to bringing the good wishes contained in the brand naming to customers. Chow Sang Sang moved his business to Hong Kong in 1948, opened Chow Sang Sang Bank in Hong Kong and Macau, established Chow Sang Sang Jin Hang Co., Ltd. in Hong Kong in 1957, established Chow Sang Sang Group Co., Ltd. in 1973, and listed in Hong Kong, becoming the first in Hong Kong. Jewelry stock listed company. Since 1975, the securities business has been started. Since 1980, the futures business has been developed. In 1995, the fashion brand "Points of the Eyes" was launched, and the eye-catching goods stores were opened in Hong Kong and Taiwan. In 1996, the group website was established. In 2001, "Chow Sang Sang Online Shopping Store" was officially put into service. In 2004, Chow Sang Sang Group signed an agreement with Hong Kong Disneyland to operate the jewelry store in the park.
Third, Zhou Dasheng: Create a jewelry empire.
In 1966, the overseas Chinese Zhou family founded Hong Kong Dragons in Hong Kong, specializing in jewelry wholesale business. In the early 1990s, Hong Kong Longyang and Indonesian Zhouhe Co., Ltd. jointly established Hong Kong Chow Tai Sang Jewelry Co., Ltd., and then quickly landed in the domestic market and established the mainland business operation management center - Shenzhen Zhou Dasheng Diamond Jewelry Co., Ltd. With dozens of glooms, "Zhou Dasheng" brand diamond jewellery and other jewellery products have won wide acclaim and trust from consumers with its superb design concept, noble and elegant inner temperament and perfect unique craftsmanship. At present, Zhou Dasheng has more than 300 chain stores in China, and its marketing network covers more than 110 large and medium-sized cities across the country. Zhou Dasheng brand industry has become the leading brand of domestic high-end jewelry. The corporate ideal of Zhou Dasheng Jewelry to create China's top and world-famous jewelry brands is gradually becoming a reality.
Fourth, Dai Mengde: Inject emotion into the brand.
Dai Mengde Jewelry Co., Ltd. was established in 1993. With the advantages of talents and management, it has risen rapidly in the Chinese jewelry and jade jewelry industry. In just a few years, Dai Mengde has developed into a jewellery-based industry, collecting and processing gemstones and rare metal minerals, processing and grading, design inlays, wholesale and retail, technology and trade, property management, import and export trade and technical services. As one, we implement a systematic joint-stock operation of science, industry and trade, and a comprehensive joint-stock listed company with international capital operation capabilities.
At present, the main business of Dai Mengde Jewelry Co., Ltd. has covered the production, processing, marketing of jade jewelry and the production, processing, wholesale and retail of jade, and established an online marketing system throughout the country.
Five, the card: simple is beautiful.
Zhejiang Riyue Jewelry Group is the largest jewellery manufacturing, processing and sales enterprise in China. It has been the first in the country for many years of production and sales. It is the only company in the jewellery industry that has entered the top 500 industrial enterprises in China and has the right to import and export.
"Mingpai" is the most powerful jewellery brand of Zhejiang Riyue Jewelry Group Co., Ltd. Currently, there are more than 80,000 varieties of thousands of gold, platinum, K gold, inlays and craft ornaments, of which nearly 200 are patented products.
In September 2004, "Mingpai" gold jewelry was awarded as China Famous Brand Product by the State Administration of Quality Supervision, Inspection and Quarantine, and the quality was exempted from inspection. In November 2004, the "Ming" brand was also recognized as "China Famous Brand". In 2007, based on its outstanding contribution to the global platinum jewelry industry, Mingpai Jewelry was awarded the "Special Contribution Award for Platinum Jewelry Promotion" by the International Platinum Association (PGI). At present, Mingpai Jewelry holds more than one-third of the platinum retail market share in mainland China and continues to play the role of a major supplier of many jewelry brands.
In addition to its leading position in the field of platinum jewelry, Mingpai Jewelry has become a full-quality jewelry supplier covering diamonds, gold and K gold with its strong global integration strength and strong corporate background. Especially in the diamond market, Ming Jewelry has established long-term strategic partnerships with international diamond giants such as DTC and RosyBlue. While being widely favored, it also promotes its jewellery consumption concept of "passing emotions and witnessing wonderful life" to the extreme.
Sixth, Yue Wang Jewelry: Centennial family glory, Yue Wang Jewelry promises a lifetime.
In 1901, the predecessor of Yuewang Jewelry - Jiangnan Jewelry Building "Chen's Silver House" was founded in Shaoxing. In the early 1970s, Chen's Silver House ushered in a new development. Its third generation descendant, the only master of arts and crafts in the jewelry industry in Zhejiang Province, Chen Yanfu, followed the family biography and founded the "Shaoxing Gold and Silver Jewelry Factory". The history of the leading enterprises in the gold and silver jewelry industry in Zhejiang Province for nearly 20 years. In the early 1990s, the fourth generation of Chen's descendants founded the Shaoxing Yuewang Jewelry Gold Co., and the Yuewang Jewelry brand was born. At the same time, Shaoxing Yuewang Jewelry Bank established the corporate tenet of "Promoting Jewelry Culture and Revitalizing Jewelry Brands". It mainly produces and sells jewelry such as gold, silver and pearls, and enjoys high reputation in areas such as Shaoxing in Ningbo. In 1998, Yuewang Jewelry carried out chain store operation, and determined the expansion model based on chain development and self-production design. In 2000, Shaoxing Yuewang Jewelry Co., Ltd. wholly acquired Shaoxing Jinyin Jewelry Factory and established Zhejiang Yuewang Jewelry Co., Ltd., and its production and operation scope gradually expanded to gold, platinum, K gold jewelry, diamonds, gemstone jewelry, jade and each Kinds of crafts. In 2003, Zhejiang Yuewang Jewelry Co., Ltd. established a jewelry design center and a production base in Shenzhen, and reached strategic partnerships with dozens of internationally renowned jewelry institutions, basically forming raw material procurement, professional design, base production, unified distribution, and chain. The operating mechanism of the business has also become the largest gold and silver jewellery production and retail chain in Zhejiang Province, and enjoys a reputation in the Chinese jewelry industry. In September 2006, Yuewang Jewelry was successfully selected as a famous Chinese brand and became the first jade brand in Zhejiang Province to receive this honor. In 2007, Yuewang Jewelry and Qizheng Mugu cooperated to enhance the Yuewang jewelry brand. Qizheng Mugu believes that jewelry companies sell not the product itself, but a pursuit, a symbol, a culture, and a reverence for excellent ancient culture. Yuewang Jewelry finds the resources and wisdom of brand growth from Chinese traditional culture. Based on the study of Yue Wang Gou Jian spirit and Yue Guo Ya culture, the project team boldly carries out creativity and locks the outline of the figure based on the elegant character of "王". In the art of overlapping characters, the elegant body of the word "Yue" is skillfully embedded in it, forming a unique and solemn jewel totem that can fully reflect the delicate artistic features. Yuewang Jewelry is a symbol of the non-replicable jewelry brand with its unique new LOGO design.
Seven, Lao Fengxiang: A hundred years old Fengxiang, towards a new glory.
Laofengxiang Silver House is the only one-year-old store in China. Shanghai Laofengxiang Co., Ltd. was founded in 1848 by the development of Laofengxiang Yinlou. The creation of its trademark "Laofengxiang" is also derived from the name of Laofengxiang Yinlou.
At present, Laofengxiang has developed into a branch of industry and trade, with more than 20 subsidiaries, including Laofengxiang Yinlou Co., Ltd., Laofengxiang Jewelry Research Co., Ltd., Laofengxiang Jewelry Co., Ltd., Laofengxiang Diamond Processing Center Co., Ltd., jewelry factory, silver. Factory, gift factory, profile factory four professional branches and more than 60 chain silver buildings, more than 1,000 sales outlets of large jewelry enterprise groups. Lao Fengxiang has won the "Jiulianguan" of Shanghai famous brand products and the famous trademark of Shanghai. It is the earliest Chinese well-known trademark in China's jewelry industry. In 2007, Laofengxiang Gold Jewelry was awarded the title of "China Famous Brand" and is the only Chinese famous brand in Shanghai jewellery industry.
Eight, Xie Ruilin: The most fashionable jewelry brand.
Xie Ruilin was formally established in 1971 and its founder started in a small workshop. In 1987, Xie Ruilin was listed on the Hong Kong Stock Exchange.
At present, the Group has more than 120 branches and sales outlets in major cities in Asia, including Beijing, Shanghai, Guangzhou, Hong Kong and Kuala Lumpur. In April 2005, the Group launched a new image advertisement to promote major cities in Asia. In addition to establishing its own TSL Xie Ruilin brand, it also opened a jazz-themed sub-brand "Xie Ruilin Saxx" in mainland China last year, injecting new elements into the jewelry store, in line with the needs of a new generation of young Chinese and catching up with the trend.
In May 2004, TSL Xie Ruilin was once again awarded the "Hong Kong Super Brand" by Super Brand. In terms of jewellery design, the Group has been highly regarded by the industry for its innovative design and has won numerous local and international jewellery design competition awards. In May 2004, the chief designer of TSL Xie Ruilin won an award in the design competition "Diamond: The Miracle of Nature" held by the De Beers Group member International Diamond Trading Company (DTC). . In June 2002, another jewellery designer won the Italian "2002 Gold Classic Design Award", which was praised as the "Oscar" Golden Award in the international goldsmithing industry.
Nine, Jin Dafu: Do a century-old shop, cast national products.
Jindafu Jewelry Co., Ltd. is a large-scale jewelry company specializing in gold, gold, platinum, diamonds and other jewelry businesses approved by the People's Bank of China. Jin Dafu is one of the first 108 member units of the Shanghai Gold Exchange. In addition to the Hong Kong headquarters, there are 6 branches in Hong Kong and mainland China. At present, the company has more than 1,000 professionals engaged in jewelry manufacturing and has 18 professional jewellery companies directly under the company. The company has more than 100 Jindafu gold jewelry stores in China. The development of "Jin Dafu" has become a famous domestic jewelry brand with international level.
X. Fuhui Jewelry: All the way to the wind and dust.
Founded in 1984, the "Fuhui" brand is a well-known brand in the Chinese jewelry industry. Since the establishment of the country's first Sino-foreign joint venture jewellery company, Fuhui Jewelry Co., Ltd. in 1984, Fuhui Jewelry has established six professional jewellery production and processing bases and one integrity testing center authorized by the State Technical Supervision Department. Nearly a thousand employees, forming a group, professional jewellery production, processing, export, domestic sales network. For more than 20 years, Fuhui people have maintained a good momentum of development in the brutal market competition with their tireless pursuit of exquisite craftsmanship and professional services, as well as the humanistic spirit of hard work and innovation.
Kitchen Canister Set,Stainless Steel Canisters,Kitchen Organizers Black,Bamboo Lids Storage Container Jars
HANDAN OURAY I/E CO., LTD , https://www.ourayceramicware.com